The famous markets in Sapa you should know
Posted on: 15/01/2018
1. Sapa Market
Sapa market is a unique cultural and economic activity. This is a place to exchange and buy many kinds of goods and local products. It is also a chance for highlanders to go to markets and young men and women. ethnic groups meet dating, singing love to find a partner through the song of confession, through the flute, horn, ecology … Visitors want to explore the Sapa market just to tour Sapa 2 days 3 nights was able to satisfy the wish.

Sapa Lao Cai Market
When the afternoon down, in the market area saw this place, the other congregated with seven boys and girls H'Mong, the first eye, the eyes of each other. Then when night falls, prisoners blind under the light yellow ball, they sit together singing, chatting all night. When they found their love, they handed each other things and then meet again after meeting. This cultural activity has existed for centuries and is now preserved. Sapa market is a place for tourists to enjoy the culture of ethnic groups.
Sa Pa market is held on weekdays, on Saturday, Sunday will be more than usual. Hmong ethnic people, Dao .. to market goods exchanges, dating affection Saturday night every week.
2. Bac Ha Market
Previously, Bac Ha Sapa Lao Cai market meeting on a gentle hill, after which the market was built on the concrete floor and is divided into each sales area should have lost some original beauty. Bac Ha market in Sapa is a place to sell all products of highland, the essential items for ethnic people: plows, hoes, shovels, knives of vegetables, fruits, honey.
Bac Ha, Lao Cai market
But attracting ethnic women and tourists the most is the sale of jewelry, dresses, dresses, brocade and also the charm of clouds. Here, you can freely choose brocade products, dazzling with colorful colors of dresses girls Mong ethnic minority, Red Dao. Foreign tourists often admire the hand-woven paintings with vivid motifs, harmonious colors and beautiful.
For the highlanders, the market is also a place for a week they can meet and drink wine in the pan. Try not to pan in the pan as well as never empty wine in the tank. Specialty wine of the Mong people, is widely known by the severity and severity of the characteristic. Horses are the most attractive place for men, they come from remote villages, even from Bac Giang and Ha Tay provinces.
3. Muong Hum Market
Muong Hum market is located in a small valley, adjacent to a clear stream of water, surrounded by high mountain clouds. The weekend market on the Muong Hum stream is a place to meet, exchange, buy and play with relatives of Ha Nhi, H'Mong, Hoa, Giay, Dao Do, Dao Tuyen and Han ethnic groups.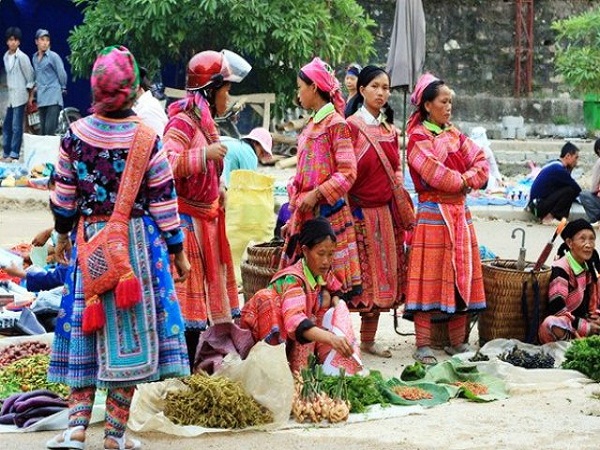 Moong Hum market hum
On weekdays, people come here to enjoy the scenery of Muong Hum Son Nature, also on the market, the most eye-catching scene is the stream at the market. By the stream, the horses waiting for the owner of the market to gather in the spring with enough hair color, sometimes they echo the painting paintings more lively, rarely seen in other places. Suspended bridges or stone bridges over the streams are always accompanied by horses.